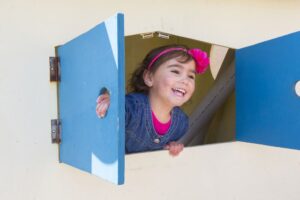 Toddlers love learning environments that are safe and familiar and where they can explore and play freely in everyday environments.
Our aspirations are founded in the Early Childhood Curricumlum for children:  "to grow up as competent and confident learners and communicators, healthy in mind, body, and spirit, secure in their sense of belonging and in the knowledge that they make a valued contribution to society".
Educators are able to regularly assess and alter their environments in response to the interest and the needs of the curious toddler and ensure that they are senses and well stimulated.
Toddlers are developing both mentally and physically every day taking big steps with their movement and balance, starting to formulate words and sentences and becoming much more aware of their surroundings and other people. Their fine motor skills, ability to express themselves and boundless energy and desire to explore their surroundings are all well catered for with just the perfect mix of activities in the home and garden, scheduled group activities with Busy Bodies and outings in the community.
The little mind of a toddler is busy all the time which is why it's still important to make sure that they continue to have a daytime nap or some quiet time so they don't get over-tired!
.