Our educators take on the primary one to one care which fosters that crucial dyad relationship.
Your Family becomes our Family

All of our educators have current First Aid Certificates and many have completed various levels of Early Childhood Education(ECE) training or equivalent.
Our educators have a regular schedule of professional development training and information sessions on a wide range of topics also access to our private face book and chit chat group.
---
Kirsty
Kia Ora, I am into my third year with Busy Bodies I find it very rewarding. This is a new career path for me, I re- trained in ECE when my daughter was 2 and now have a Diploma in ECE. While training I gained experience at the local Childcare and worked as a student teacher at Kindergarten. I really enjoy having children in my home as they become such a part of the whanau/ family hub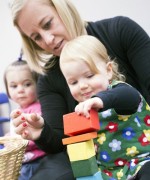 Karina
Hi! My name is Karina, I've been an educator for 8 years now and have loved every minute of it. I have a husband and 3 school aged daughters. I have looked after many children during my time as an educator from aged 2 months to 5 years, my training includes a Cert in Family Day Care: Level 3, current First Aid and attend Professional Develop Courses. I love what I do, watching children grow and develop. I enjoy taking them out and about in the environment, and watching there little face shine with everyday learning. I have a warm, safe and relaxing environment with plenty of space to play.
Michelle McLean
Kia ora I'm Michelle, I have a fantastic blended family; with 4 children (ranging from 7 to 23 years). I've been with Busy Bodies since 2011 and love every minute of it! I understand how hard it can be to find care for your children, especially if you start work really early; so I'm more that happy to help in that area. I will provide small group experiences and larger group experiences in which your child can play and make friends. I offer a warm, safe and homely environment with regular outings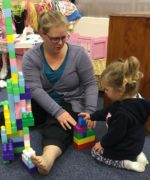 Liz
Hi, I've been an Educator since 2008. I have 2 school aged children. My training includes a Cert in Family Day Care: Caregiver Level 3, plus ongoing professional development workshops. I love my job and enjoy assisting children in their learning through play and exploration. We go on regular outings in the community. I have a well property with lots of play space inside and out.
Petrina
Kia Ora! I live in rural surroundings with my daughter Kyah, I also have two adult sons. I have a National Certificate in Social Work and am currently working towards a Degree in Social & Community Work. I believe children should be in a safe nurturing environment where they can learn personal, emotional and cognitive development. My spare time is spent enjoying my family.
Chloe
Kia Ora! I have a 5 yr old daughter and love working with pre-schoolers and seeing their little personalities emerge as they develop. I have completed my Cert in Early Childhood Practice (Level 4). We go to regular activities and extra outings like nature walks, playground and the library.I believe that children of all ages need a warm, nurturing carer and stimulating environment.
Gillian
Hello My name is Gillian and I have been working with Busy Bodies Childcare since the start of 2012. I live in the Grasmere area with my two teenage daughters. Raising them has taught me a lot about child development and learning. I feel very privileged to be such an important and influential part of the lives of the children in my care and I enjoy watching them grow and develop within their stages of learning. I provide a safe and welcoming environment and we enjoy regular outings
Michelle
Kia ora! I've been an educator for 3 years. I enjoy working in my home with preschoolers watching their personalities develop. We go on regular outings to playgroup, parks, drop in gym, bush walks and trips to the museum. We have a well-fenced property with lots of fun play space outside. I enjoy attending professional development workshops and courses throughout the year.
Kelly
Kia Ora my name is Kelly and I have been working for Busy Bodies since 2015. I have two teenage children, a boy and a girl. Who can say they love their job? I can!! I love watching young children develop and watch as their confidence grows. We enjoy going out to playgroups, chipmunks, the gym and other little excursions. I have a warm, safe and relaxing environment with lots of room both inside and out for play and exploration.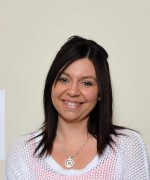 Jen
Hi, I'm Jen and I live in the Waverley/Hargest area with my husband and two sons. I have been with Busy Bodies since March 2015 and am currently studying towards my Certificate in Early Childhood Practice (Level 4). I will provide a safe and nurturing environment with plenty of space for play and learning experiences. I enjoy watching children grow and develop. Being part of this important stage of their life is what makes me so passionate about my job.