Our educators take on the primary one to one care which fosters that crucial dyad relationship.
Your Family becomes our Family

All of our educators have current First Aid Certificates and many have completed various levels of Early Childhood Education(ECE) training or equivalent.
Our educators have a regular schedule of professional development training and information sessions on a wide range of topics also access to our private face book and chit chat group.
---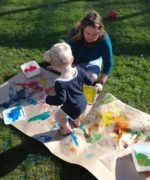 Alisa
Hi my name is Alisa This is a job that has always appealed to me as I get to work with children while also spending time with my own children. I have a fully fenced section with spacious indoor play area, great indoor, outdoor flow, gardens, and chickens to feed. At home we do activities including arts and crafts, baking, reading, construction, and activities suited to your child's passions. We also make full use of playgroups, the library, museum, drop-in-gym, parks, and as appropriate attend cultural events. I look forward to meeting both you
Kerrie
Hi I'm Kerrie! I am a qualified Early Childhood teacher who has worked in home based and centre based settings for the past 17 years and I am very passionate about quality care and education during the early years. I have one child of my own who is 7 who also enjoys having children in our home. I have a warm house and a large fully fenced back yard and playroom with a variety of resources for all ages. I very much enjoy everything about home based care I am always willing to accommodate to your needs and aspirations for your children and offer a fun, consistent and nurturing environment.